Cosmetic Dentistry – Bloomfield, CT
Get a New Glow with
Cosmetic Treatments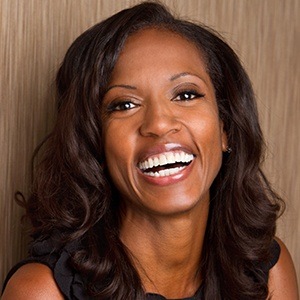 Your smile — and your teeth — are among the first things other people notice about you. Do you hesitate to let your smile shine due to cosmetic imperfections in your teeth and gums? Our dental office can help you change that. Cosmetic dentistry is art and science working together to correct aesthetic flaws in the teeth and promote dental health. We would like to help you say goodbye to missing, chipped, discolored, or crooked teeth. Explore our available options for cosmetic dentsitry in Bloomfield, CT to find one that may be right for you.
Why Choose Family Dental Practice of Bloomfield for Cosmetic Dentistry?
Treatment Customized to Your Preferences
Natural-Looking Results
Numerous Cosmetic Services Available
All-Ceramic Dental Restorations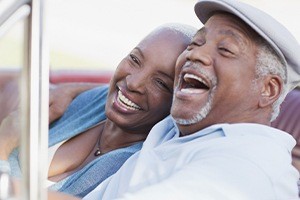 Crowns are used to repair cracked, broken, or otherwise damaged teeth. The crown becomes your tooth's chewing surface, and should fit tightly, feel natural, and protect the remaining tooth from further damage. All-ceramic crowns are popular with most dental professionals. The material can be molded to look and feel more like your natural tooth than traditional crown materials such as metals or porcelain fused to metal.
Each all-ceramic crown is custom-crafted for the patient who will receive it. They are even made in our convenient, on-site lab. Using E4D digital scanning technology, we are able to design, fabricate, and place your all-ceramic crown in just one day. In many cases, the entire process takes less than three hours. Patients who are unable to commit that amount of time to one visit can choose to have two shorter visits that fit into their schedule.
Learn More About All-Ceramic Restorations
Invisalign® Clear Aligners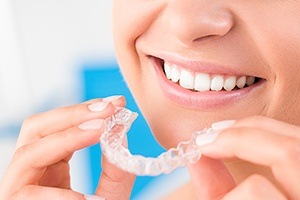 Many adults require orthodontic care. However, they do not want to receive treatment because they dislike the prospect of wearing traditional metal braces. We offer Invisalign®, which uses a series of clear, practically invisible, plastic aligners to move teeth. You simply wear each aligner for 20 – 22 hours each day for about two weeks. As you work your way through the entire series of aligners, your teeth will gradually move into their proper places. When your treatment concludes, you will have a healthier and more attractive set of teeth.
Learn More About Invisalign® Clear Aligners
In-Office Teeth Whitening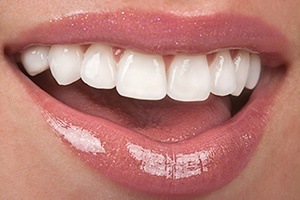 One of our most popular cosmetic dentistry services is in-office teeth whitening. Teeth whitening done in a dental office rather than at home has numerous advantages, including faster and more dramatic results; your teeth may become 5 – 10 shades whiter in a single appointment.
Types of in-office Teeth whitening:
Zoom! Teeth Whitening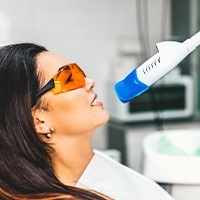 Zoom! is a line of products that whiten teeth using a patented gel formula and acceleration light at the dental office. Zoom! also includes customized teeth whitening trays and professional grade gel for at-home maintenance. One of the first teeth whitening products formulated to eliminate or reduce tooth sensitivity, Zoom! is a popular teeth whitening option.
Deep Bleaching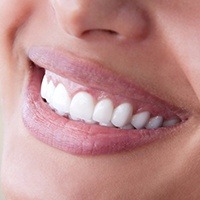 This is an extended process recommended for patients who have deep stains from smoking, consuming acidic or highly pigmented foods and beverages (coffee, wine, red sauces), or teeth that are dulled with age. A deep bleaching process takes place over numerous visits, with at-home care performed between them. The process is able to address deep-set stains because it includes a preparation step that opens your tooth enamel, thus enhancing its ability to absorb the teeth whitening product.
Learn More About In-Office Teeth Whitening
At-Home Teeth Whitening Kits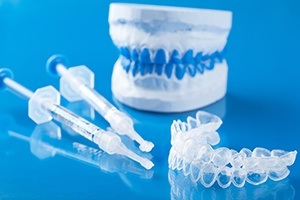 At-home kits are generally one of two varieties: strips or gels. Teeth whitening strips have the active ingredient on one side, which is placed directly on your teeth. Some strips dissolve, and others should be removed after a specified amount of time. Teeth whitening gels are placed in trays that are left in your mouth for anywhere between 15 minutes and all night. At Family Dental Practice of Bloomfield, we can offer you custom teeth whitening trays that will hug your teeth more closely than products you can buy at the store, which will lead to the best possible results.
Porcelain Veneers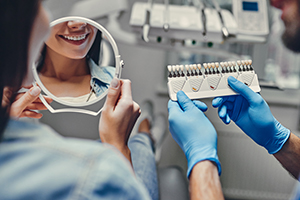 Porcelain veneers are ultra-thin pieces of porcelain that a cosmetic dentist attaches to the fronts of a patient's teeth in order to disguise aesthetic flaws. Veneers can hide discoloration, cracks, chips, minor misalignment, and more. The porcelain is quite durable and resistant to stains; it is not unusual for veneers to maintain their original beauty for a decade or longer. We always take great care to ensure that the veneers look natural and complement a patient's facial features. The treatment process with veneers is fairly fast and usually takes only two appointments to complete.
Dental Bonding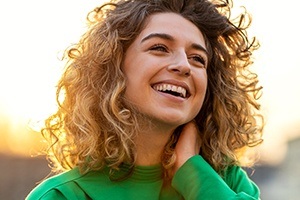 Direct bonding, otherwise known as cosmetic bonding or dental bonding, involves molding a tooth-colored resin over the teeth. The resin is the same material used for tooth-colored fillings. We shade-match to blend in seamlessly with the surrounding enamel. It can thus disguise flaws like chips, cracks, and discoloration. Direct bonding is a cost-effective, noninvasive, and quick procedure that is ideal for many patients who want to improve the appearance of just one or two teeth.
Learn More About Dental Bonding
Gum Recontouring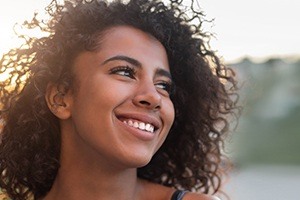 Do you have excess or uneven gum tissue that makes your teeth appear short and stubby? We may be able to help via a gum recontouring procedure. By gently trimming your gums with precision tools, we can make your teeth appear larger, giving you a more proportionate grin and freeing you of the embarrassment of having a "gummy smile." The results of gum recontouring are natural-looking and permanent in nature.
Call our trusted dental staff today to find out more about our outstanding cosmetic dentistry services for the whole family. Our Bloomfield dental office welcomes patients from surrounding areas, including West Hartford, Bloomfield, Avon, Windsor, and Simsbury.