Zoom! In-Office Teeth Whitening – Bloomfield, CT
Zoom Your Way
to a Brighter Smile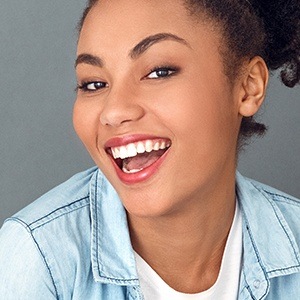 With all of the products out there that claim to whiten teeth, it can be a challenge to find one that truly works. Instead of squandering time and energy on OTC items that might or might not deliver results, we encourage you to look into Zoom! in-office teeth whitening in Bloomfield, CT as your route to a brighter smile. We are pleased to offer this innovative service in our dental office, so do not hesitate to contact us if you would like to talk to a professional about your cosmetic goals for your teeth.
Why Choose Family Dental Practice of Bloomfield for Zoom! In-Office Teeth Whitening?
Brighten Your Teeth by Several Shades
Comfortable, Modern Dental Office Environment
More Effective than OTC Options
How Does Zoom! In-Office Teeth Whitening Work?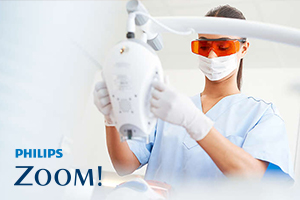 Zoom! uses a 20 percent hydrogen peroxide teeth whitening gel, which gets applied to the surfaces of your teeth. The gel works together with a special light that penetrates the teeth to break up stains. Here is an overview of the Zoom! procedure from beginning to end:
Usually, it is recommended that you undergo a standard teeth cleaning right before your teeth whitening session.
Your cosmetic dentist in Bloomfield or a dental hygienist prepares your gums and lips, covering them so the bleaching gel will not irritate them during your procedure.
The teeth whitening gel gets applied to your teeth, followed by a special sealant layer. The sealant dries quickly, locking the bleaching solution in place. (This film on your teeth is easy to wipe away after your procedure.)
You get to sit back and relax while the light activates the bleaching gel. Usually, the treatment involves three or four 15-minute sessions where your teeth are exposed to the light.
After teeth whitening, a sensitivity-reducing gel gets applied to your teeth.
A take-home maintenance kit, complete with a bleaching solution and customized trays, equips you to maintain your white smile for as long as possible after the initial teeth whitening session.
What Are the Advantages of Zoom! Teeth Whitening?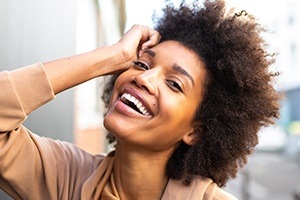 Zoom! comes with a number of significant advantages:
As its name implies, Zoom! works very quickly. Your teeth may become five to 10 shades brighter in a single appointment.
Most OTC teeth whitening products work only on the surface of teeth to fight stains. Zoom! gets below the surface, enabling it to deliver truly spectacular results for many patients.
Zoom! is specifically formulated so you experience as little tooth sensitivity as possible after the procedure. (You will probably still have some sensitivity in the first few days following your procedure, but it should not be horribly uncomfortable as long as you do not consume a lot of hot or cold foods or beverages.)
Is Zoom! Teeth Whitening Right for You?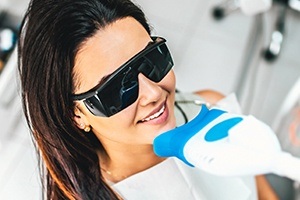 Zoom! is the ideal teeth whitening solution for many people, but it is not right for everyone. We will examine your mouth before any cosmetic procedure to make sure our oral health is good enough to undergo any treatments that focus solely on aesthetics.
Also, keep in mind that your previous dental work, such as fillings, crowns, dental bonding, and veneers, will not respond to teeth whitening treatment. If you have any of these at the front of your mouth, you may need to get them replaced with a brighter shade so your new look is as uniform as possible.
On the other hand, Zoom! might be perfect for you if:
You have yellow teeth that are the result of years of habits like drinking coffee and wine.
You have great oral hygiene habits and will do your best to maintain your whiter smile.
You want to whiten your teeth as quickly as possible.
You want results that will turn heads wherever you go.