Dentist – Bloomfield, CT
Get to Know
Tejasvini Jangam, DMD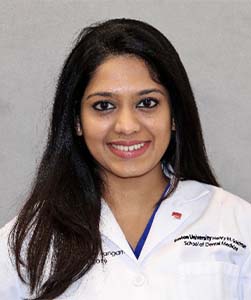 Graduated from Boston University, Henry M Goldman school of dental medicine and has been practicing as a general dentist since 2013.
Coming from a family of doctors I realized as a child that an individual's Oral Health could greatly improve the quality of their life. I have always felt a responsibility towards the health and welfare of the society and being a dentist helps me archive that.
Though a smile is said to be an inexpensive way to change ones looks, in reality, a smile is an expression of well-being and optimism. A good smile always instills confidence in oneself and others and belongings to a profession that brings smiles to others is one of the most rewarding things of my life.
I am extremely passionate about Dentistry as it's an ever-growing profession that is constantly developing the quality, care, and success of treatment.