Invisalign Clear Aligners – Bloomfield, CT
Subtle Treatment, Dramatic Results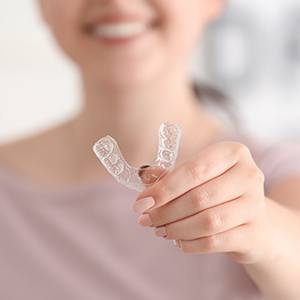 For years, traditional metal braces were the only option to correct crooked, gapped, or crowded teeth. While traditional braces are effective, they are no longer the only bite correction option available. Clear braces like Invisalign® clear aligners from our Bloomfield, CT orthodontist make it possible to shift your teeth without the pain, hassle and mouth full of metal associated with traditional braces.
Why Choose Family Dental Practice of Bloomfield for Invisalign Clear Aligners?
On-Staff Orthodontist
Convenient Appointment Times
Personalized Support Throughout Your Treatment
How It Works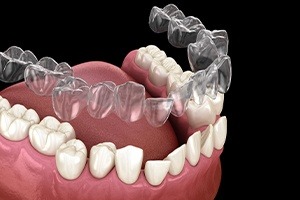 Traditional braces comprise a series of brackets fused to teeth that are connected to other brackets using wires. These wires are then tightened, causing your teeth to shift into alignment. Invisalign® uses the same basic idea of constant pressure to move your bite into proper alignment. However, instead of using brackets and wires, pressure is applied by the clear alignment trays. Many patients report experiencing less pain with Invisalign®. At Family Dental Practice of Bloomfield, our Invisalign® trained dentists will examine your current bite and develop alignment trays to be worn and discarded about every two weeks. These trays are customized to correct your bite, and your dentist can explain how your alignment trays will shift your bite using our advanced technology. Most patients complete their Invisalign® treatment in about a year.
The Invisalign® Difference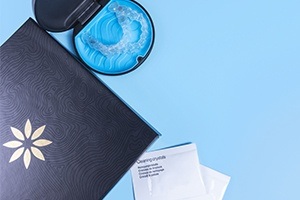 In just 12 months, your teeth maybe be perfectly aligned, but in the meantime, you will not have to worry about changing your diet or attending frequent dental appointments. Because clear braces are removable, you can take them out for meals and replace them after. They can even be taken out during photos or important events. Skipping school to go to the orthodontist might have been something to look forward to, but for many working adults, this is not an option. Patients who choose Invisalign® require less than half the number of dentist visits throughout their course of treatment.