Invisalign® Clear Aligners – Bloomfield, CT
Subtle Treatment, Dramatic Results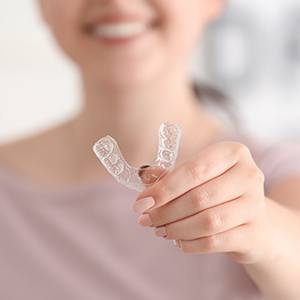 For years, traditional metal braces were the only option to correct crooked, gapped, or crowded teeth. While traditional braces are effective, they are no longer the only bite correction option available. Clear braces like Invisalign® clear aligners from our Bloomfield, CT orthodontist make it possible to shift your teeth without the pain, hassle and mouth full of metal associated with traditional braces.
Why Choose Family Dental Practice of Bloomfield for Invisalign® Clear Aligners?
On-Staff Orthodontist
Convenient Appointment Times
Personalized Support Throughout Your Treatment
How It Works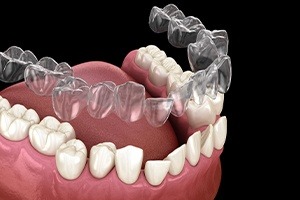 Traditional braces comprise a series of brackets fused to teeth that are connected to other brackets using wires. These wires are then tightened, causing your teeth to shift into alignment. Invisalign® uses the same basic idea of constant pressure to move your bite into proper alignment. However, instead of using brackets and wires, pressure is applied by the clear alignment trays. Many patients report experiencing less pain with Invisalign®. At Family Dental Practice of Bloomfield, our Invisalign® trained dentists will examine your current bite and develop alignment trays to be worn and discarded about every two weeks. These trays are customized to correct your bite, and your dentist can explain how your alignment trays will shift your bite using our advanced technology. Most patients complete their Invisalign® treatment in about a year.
The Invisalign® Difference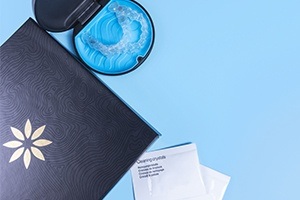 In just 12 months, your teeth maybe be perfectly aligned, but in the meantime, you will not have to worry about changing your diet or attending frequent dental appointments. Because clear braces are removable, you can take them out for meals and replace them after. They can even be taken out during photos or important events. Skipping school to go to the orthodontist might have been something to look forward to, but for many working adults, this is not an option. Patients who choose Invisalign® require less than half the number of dentist visits throughout their course of treatment.
Understanding the Cost of Veneers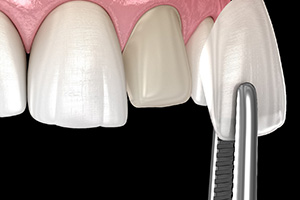 The cost of veneers in Bloomfield tends to be higher than that of other cosmetic treatments. However, they are a smart purchase for anyone who is looking to transform their teeth and achieve a "perfect" smile. When you visit us for your cosmetic consultation, we will help you compare all of your aesthetic treatment options. Whether you choose veneers or another procedure, you can be sure that we will do our best to respect your preferences and budget at every step along the way.
Cost vs. Cosmetic Dentistry: What Should I Choose?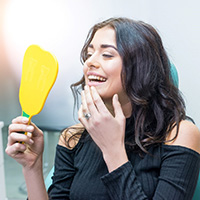 Veneers in Bloomfield are just one of many services that are available to people who are looking to enhance their smile. Here is an overview of some popular treatments, along with a generalized idea of how much they cost:
Clear aligners and braces are not really cosmetic services. Yes, they can improve the teeth's appearance, but in most cases, their primary goal is to correct dental misalignment that is adversely affecting oral health. They tend to cost thousands of dollars, and they do not improve the color, size, or shape of teeth. The treatment takes at least several months. If your dental misalignment is pretty minor, you might wish to disguise it with veneers instead.
Teeth whitening. Professional teeth whitening is one of the most affordable cosmetic services, often costing just a few hundred dollars. It can remove even deep-set stains, making it ideal for people who want to brighten up their smile before a special event. However, the results are temporary, and whitening does not enhance the size, shape, or positioning of teeth.
Dental bonding. Also called cosmetic bonding or directing bonding, this is an affordable treatment that looks similar to veneers at first. However, it is not particularly durable; it may need to be replaced every few years.
Veneers may seem expensive at first, but it is important to consider what you are getting for your money. They are a fast and effective way to address a wide range of aesthetic flaws in teeth, almost making them an "all-in-one" treatment. In most cases, they last for a minimum of 10 – 15 years before replacement becomes necessary. Truly, they are an excellent value.
How to Make Veneers Affordable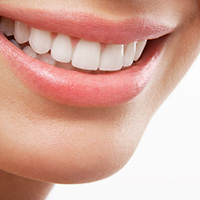 Veneers are considered to be a purely elective treatment in most cases, so it is highly unlikely that your insurance will cover them. However, as your cosmetic dentist in Bloomfield, we offer other provisions that may make it easier for you to afford your desired treatment:
Essential Dental Plan. This discount plan offers reduced prices on virtually all the services available at our practice. Signing up is fast, and you can use your benefits immediately.
If you would like to pay for your treatment over time, you might qualify for low-interest financing through CareCredit. The application process is quick, and you may be able to choose from a variety of payment plans according to what works best with your monthly budget.
Are you ready to learn more about veneers and their cost? Reach out to us today to schedule a consultation — we look forward to serving you!