Dentures – Bloomfield, CT
Reliable, Cost-Effective Tooth Replacement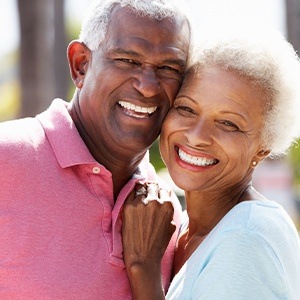 For many people who have suffered tooth loss, dentures in Bloomfield present an effective and affordable way to regain a complete, functional smile. But what exactly are dentures, what benefits do they offer, and what is the process like for getting dentures in our Bloomfield, CT dental office?
Why Choose Family Dental Practice of Bloomfield for Dentures?
Natural-Looking Prosthetics
Multiple Types of Dentures Available
Highly Trained Team
What Are Dentures?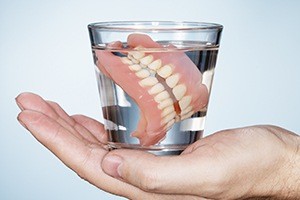 Dentures consist of two main parts: pontics (artificial teeth), which are usually made of acrylic or porcelain, and a gum-colored base that helps to secure the teeth in the mouth. There are two types of dentures:
Full dentures in Bloomfield. These replace an entire arch of teeth (either all of the top teeth or all of the bottom teeth).
Partial dentures. As their name implies, partial dentures replace just a few teeth. The missing teeth do not have to all be adjacent to one another; a single prosthesis can replace multiple teeth throughout the mouth.
Dentures usually stay secure in the mouth via natural suction or with the help of a mild dental adhesive. In many cases, partial dentures have metal clips that help them remain in place so their wearers can enjoy a comfortable fit and strong bite.
What Benefits Do Dentures Offer?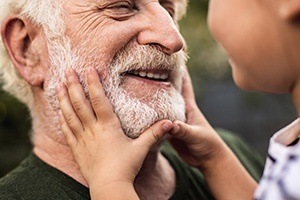 Here are some of the many benefits that you can expect to experience if you receive dentures:
The ability to enjoy a wide range of foods. Although it may take a bit of time to learn how to eat with dentures, they will enable you to consume most (if not all) of your favorite foods.
A beautiful appearance. Well-made dentures look extremely natural in the mouth. In fact, onlookers may not be able to tell that you are wearing a prosthesis. Dentures can also help to prevent the "sunken cheek" look that often occurs after extensive tooth loss.
Security and comfort. Many people believe that dentures are prone to slip out of the mouth frequently or cause gum irritation. However, if your artificial teeth fit well, you are unlikely to experience any serious problems with them.
Easy care. Dentures require daily cleaning, but keeping them free of food particles and bacteria is not difficult. Your dentist in Bloomfield will give you instructions on how to care for them in order to make them last as long as possible.
What Is the Process for Getting Dentures?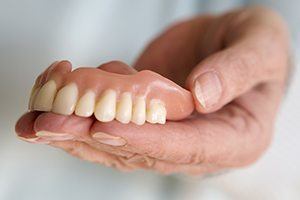 Most people who have lost multiple teeth are candidates for dentures, but your dentist will still have to examine your mouth to make sure it can support a prosthesis. They may also discuss alternative tooth replacement options with you, such as implant-supported dentures.
If you decide to get traditional dentures, your dentist will take some impressions and measurements of your mouth and design your new teeth. A laboratory will create your denture, and you will later return to the dentist for a final fitting. The entire process for getting dentures may take place over several weeks or months and require multiple appointments with your dentist.
After you get used to your dentures, always stay mindful of how they fit; changes to the shape of your jaw may mean that you will need to get them adjusted periodically. After five to eight years or so, it is likely that you will need to get new dentures altogether.
Understanding the Cost of Dentures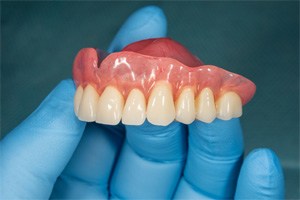 The cost of dentures in Bloomfield can vary from patient to patient. In many cases, they are a very cost-effective solution for replacing lost teeth. When you come in for your consultation, we will be able to provide a personalized price estimate. We will also assist you as you consider your payment options, such as insurance and financing.
Factors that Affect the Cost of Dentures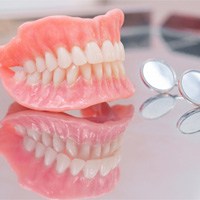 The price of dentures in Bloomfield can be affected by the following factors:
Preliminary treatments. Some patients require extractions, gum disease therapy, or other procedures before they get dentures. Naturally, these services can increase the overall cost of care.
The acrylic and porcelain used to make dentures can be of varying qualities, come from different manufacturers, and have a range of price points.
The type of denture. Full dentures, partial dentures, and implant denture all have different prices.
Be wary of any "bargain" dentures. Remember, you tend to get what you pay for, and quality is extremely important for what goes in your mouth.
Are Implant Dentures More Expensive?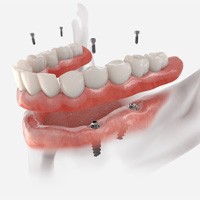 Yes, implant dentures cost more than traditional forms of tooth replacement. The difference in price is due to the fact that implant dentures require more time, a higher level of skill, and more materials than their conventional counterparts.
Despite their higher cost, they are a wise purchase. They can last for many years, while traditional dentures typically need to be replaced every 5- 7 years or so. They also provide some truly priceless benefits. For example, they can prevent bone loss in the jaw, enable you to eat virtually any food, and feel extremely natural in the mouth.
Does Dental Insurance Cover Dentures?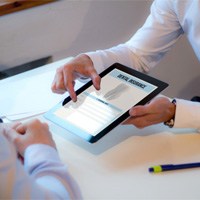 In most cases, yes, insurance covers dentures. They are usually considered to be a major procedure, meaning that around 50% of their total price is covered, up to the amount of an insurance plan's annual maximum. Many patients are able to save hundreds of dollars or more by using their insurance. Our team accepts payment from more than 200 dental policies, so you can rely on us to help you maximize your benefits.
Other Options for Making Dentures Affordable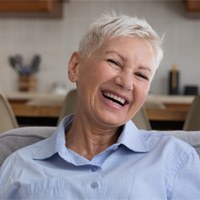 As your denture dentist in Bloomfield, we want to help you afford your prosthetic. To that end, we offer a few provisions:
Most patients qualify for a monthly payment plan through CareCredit, a third-party lender. The application process is fast, and many installment plans come with little or no interest.
Essential Dental plan. This discount plan, designed for patients without insurance, provides reduced fees on most of the services we provide.
Are you ready to replace your lost teeth? Our team is eager to serve you. Contact us to schedule a consultation so you can learn more about dentures and their cost.
Denture FAQs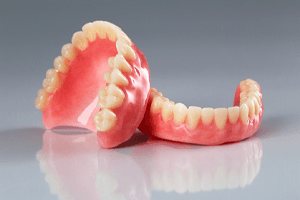 As your denture dentist in Bloomfield, we are ready to help you rebuild your smile. Before you schedule your restorative consultation with us, however, you may want to know more about the road ahead. To help you out, we have put together the following list of FAQs about this treatment. If you do not see your specific questions addressed, reach out to us directly so we can personally assist you.
How Long Will You Have to Wait to Get Dentures After Your Teeth are Pulled?
The traditional wait time between extractions and denture placement is 6 – 8 weeks. This allows the gums to heal following tooth removal. Some patients, though, have a much shorter wait time. They might opt for immediate dentures, which are placed right after extractions. Immediate dentures tend to require more frequent adjustments than their conventional counterparts, but many patients still believe they are worth it.
If you choose to get implant dentures, you may have to wait several months between your extractions and the placement of your new teeth. That is because after your implants are placed in your jawbone, you will have to wait for them to integrate with the surrounding tissue before they can support a denture.
Can I Sleep with My Dentures?
When you first get your dentures in Bloomfield, we may advise you to wear them continuously for the first 24 hours. Thereafter, however, you should remove them every night. Doing so allows your gums a chance to rest. It also gives you the opportunity to thoroughly clean both your prosthetic and your mouth, so you can maintain a fresh smile and reduce your risk of harmful infections, bad breath, and other problems.
What Is the Average Age for Dentures?
Most patients who receive dentures are somewhat up in years. In fact, a census by the American Dental Association found that almost 57% of people between the ages of 65 and 74 wear some sort of denture. A separate survey found that approximately two-thirds of people between the ages of 40 and 64 are missing at least one tooth.
Of course, the above statistics do not mean that younger people cannot get dentures. Due to genetics, trauma, or other circumstances, some people below the age of 40 must get their teeth replaced.
Will It Hurt to Get Dentures?
If you need to get some teeth extracted before you receive dentures, you can expect to experience some soreness as you heal from the procedure. Most patients are feeling better within a few days to a week or so.
When you first get your new teeth, they may cause some mild gum irritation and general discomfort. Some patients adapt within a few weeks, but for others, it takes months before they truly get used to their prosthetic. If you experience any severe or persistent pain, you should contact us for assistance.