Porcelain Veneers – Bloomfield, CT
Say Goodbye to
Your Smile's Flaws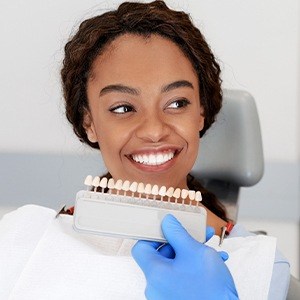 Do you hold back from smiling because you are all too aware of the aesthetic imperfections in your teeth? If you do, you may benefit from porcelain veneers. This remarkable dental treatment can quickly disguise a range of flaws and transform the way your teeth look. You may even receive a big confidence boost as well! When you are ready to discover if veneers are a fit for your circumstances, contact Family Dental Practice of Bloomfield to schedule your consultation with a qualified cosmetic dentist to discuss smile transforming porcelain veneers in Bloomfield, CT.
Why Choose Family Dental Practice of Bloomfield for Porcelain Veneers?
Treatment Tailored to Your Preferences
Highly Trained Dental Team
Long-Lasting, Natural-Looking Results
What Are Porcelain Veneers?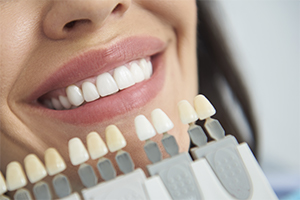 Porcelain veneers are ultra-thin pieces of porcelain that we attach to the fronts of a patient's teeth. They thereby hide the natural tooth and present a whole new look to the world. Some of the flaws that porcelain veneers can disguise include:
Discoloration
Cracks and chips
Teeth that are too small
Slightly misaligned or crooked teeth
Asymmetrical teeth
How Do Porcelain Veneers Work?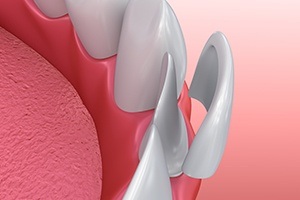 The porcelain veneer process usually takes place across two appointments. At the first appointment, we prepare the teeth by removing a sliver of enamel from them; this is necessary to ensure that the veneers do not make your smile look bulky or unnatural. Then, we take impressions of the teeth. We send the impressions, along with detailed notes about the design of your veneers, to the dental laboratory that will fabricate them. You will wear temporary veneers while your permanent ones are being created. When they are ready, you will return to our dental office so we can verify their fit before we attach them to your teeth.
Benefits of Porcelain Veneers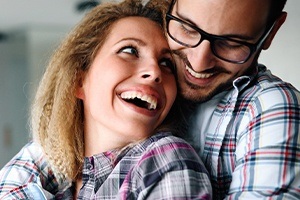 Some of the most outstanding benefits of porcelain veneers include:
Porcelain is very tough. It can stand up to all the rigors of everyday eating and drinking. With proper care, your veneers may last for 10 years or longer.
Stain resistance. Porcelain is nonporous, which means that it does not absorb pigments like natural tooth enamel. You can therefore expect your veneers to maintain their original brilliance for many years.
You can opt for just one veneer to disguise a particularly unattractive tooth, or you can receive a full set of 4 – 8 veneers for a total smile transformation.
Veneers are designed to suit your facial features and personal preferences. We will work with you to ensure that their color, size, and shape produce a final result that is both natural-looking and beautiful.
How to Know if Porcelain Veneers Are Right for You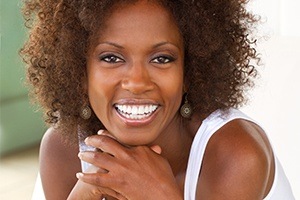 The best way to find out if veneers are right for you is to schedule a consultation with our team. In general, though, candidates for this procedure:
Have noticeable flaws in their teeth that they would like to hide
Are free of gum disease
Have adequate tooth enamel to support the veneers
Do not grind their teeth
Have excellent oral hygiene habits
Are prepared to fulfill the financial obligation that comes with the treatment (veneers are an elective procedure, which means that dental insurance does not provide any coverage for them)