Porcelain Veneers – Bloomfield, CT
Say Goodbye to
Your Smile's Flaws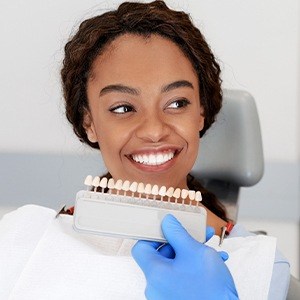 Do you hold back from smiling because you are all too aware of the aesthetic imperfections in your teeth? If you do, you may benefit from porcelain veneers. This remarkable dental treatment can quickly disguise a range of flaws and transform the way your teeth look. You may even receive a big confidence boost as well! When you are ready to discover if veneers are a fit for your circumstances, contact Family Dental Practice of Bloomfield to schedule your consultation with a qualified cosmetic dentist to discuss smile transforming porcelain veneers in Bloomfield, CT.
Why Choose Family Dental Practice of Bloomfield for Porcelain Veneers?
Treatment Tailored to Your Preferences
Highly Trained Dental Team
Long-Lasting, Natural-Looking Results
What Are Porcelain Veneers?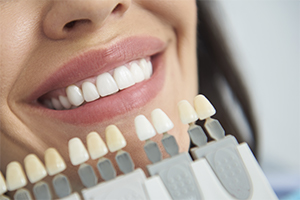 Porcelain veneers are ultra-thin pieces of porcelain that we attach to the fronts of a patient's teeth. They thereby hide the natural tooth and present a whole new look to the world. Some of the flaws that porcelain veneers can disguise include:
Discoloration
Cracks and chips
Teeth that are too small
Slightly misaligned or crooked teeth
Asymmetrical teeth
How Do Porcelain Veneers Work?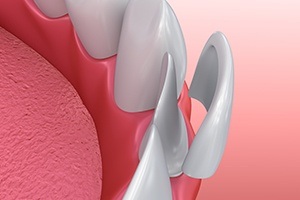 The porcelain veneer process usually takes place across two appointments. At the first appointment, we prepare the teeth by removing a sliver of enamel from them; this is necessary to ensure that the veneers do not make your smile look bulky or unnatural. Then, we take impressions of the teeth. We send the impressions, along with detailed notes about the design of your veneers, to the dental laboratory that will fabricate them. You will wear temporary veneers while your permanent ones are being created. When they are ready, you will return to our dental office so we can verify their fit before we attach them to your teeth.
Benefits of Porcelain Veneers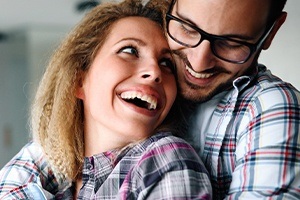 Some of the most outstanding benefits of porcelain veneers include:
Porcelain is very tough. It can stand up to all the rigors of everyday eating and drinking. With proper care, your veneers may last for 10 years or longer.
Stain resistance. Porcelain is nonporous, which means that it does not absorb pigments like natural tooth enamel. You can therefore expect your veneers to maintain their original brilliance for many years.
You can opt for just one veneer to disguise a particularly unattractive tooth, or you can receive a full set of 4 – 8 veneers for a total smile transformation.
Veneers are designed to suit your facial features and personal preferences. We will work with you to ensure that their color, size, and shape produce a final result that is both natural-looking and beautiful.
How to Know if Porcelain Veneers Are Right for You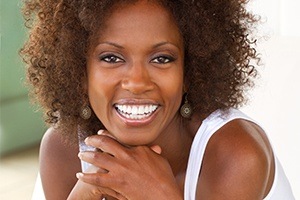 The best way to find out if veneers are right for you is to schedule a consultation with our team. In general, though, candidates for this procedure:
Have noticeable flaws in their teeth that they would like to hide
Are free of gum disease
Have adequate tooth enamel to support the veneers
Do not grind their teeth
Have excellent oral hygiene habits
Are prepared to fulfill the financial obligation that comes with the treatment (veneers are an elective procedure, which means that dental insurance does not provide any coverage for them)
Understanding the Cost of Veneers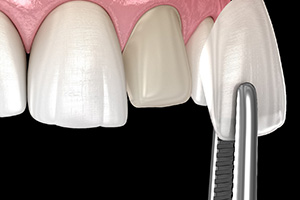 The cost of veneers in Bloomfield tends to be higher than that of other cosmetic treatments. However, they are a smart purchase for anyone who is looking to transform their teeth and achieve a "perfect" smile. When you visit us for your cosmetic consultation, we will help you compare all of your aesthetic treatment options. Whether you choose veneers or another procedure, you can be sure that we will do our best to respect your preferences and budget at every step along the way.
Cost vs. Cosmetic Dentistry: What Should I Choose?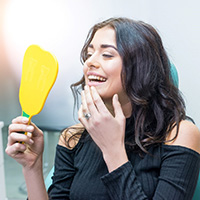 Veneers in Bloomfield are just one of many services that are available to people who are looking to enhance their smile. Here is an overview of some popular treatments, along with a generalized idea of how much they cost:
Clear aligners and braces are not really cosmetic services. Yes, they can improve the teeth's appearance, but in most cases, their primary goal is to correct dental misalignment that is adversely affecting oral health. They tend to cost thousands of dollars, and they do not improve the color, size, or shape of teeth. The treatment takes at least several months. If your dental misalignment is pretty minor, you might wish to disguise it with veneers instead.
Teeth whitening. Professional teeth whitening is one of the most affordable cosmetic services, often costing just a few hundred dollars. It can remove even deep-set stains, making it ideal for people who want to brighten up their smile before a special event. However, the results are temporary, and whitening does not enhance the size, shape, or positioning of teeth.
Dental bonding. Also called cosmetic bonding or directing bonding, this is an affordable treatment that looks similar to veneers at first. However, it is not particularly durable; it may need to be replaced every few years.
Veneers may seem expensive at first, but it is important to consider what you are getting for your money. They are a fast and effective way to address a wide range of aesthetic flaws in teeth, almost making them an "all-in-one" treatment. In most cases, they last for a minimum of 10 – 15 years before replacement becomes necessary. Truly, they are an excellent value.
How to Make Veneers Affordable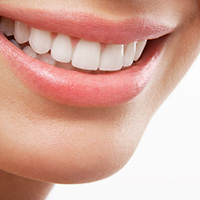 Veneers are considered to be a purely elective treatment in most cases, so it is highly unlikely that your insurance will cover them. However, as your cosmetic dentist in Bloomfield, we offer other provisions that may make it easier for you to afford your desired treatment:
Essential Dental Plan. This discount plan offers reduced prices on virtually all the services available at our practice. Signing up is fast, and you can use your benefits immediately.
If you would like to pay for your treatment over time, you might qualify for low-interest financing through CareCredit. The application process is quick, and you may be able to choose from a variety of payment plans according to what works best with your monthly budget.
Are you ready to learn more about veneers and their cost? Reach out to us today to schedule a consultation — we look forward to serving you!
Veneer FAQs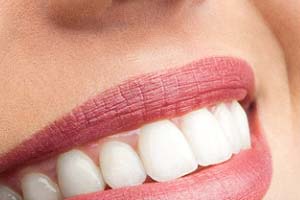 If you are thinking about transforming your smile with veneers in Bloomfield, our team is ready to help you. Before you schedule your consultation, however, you may want to gather more information about the road ahead. To help you out, we have put together a list of answers to some frequently asked questions about this treatment. If you want further explanation on anything you find here, give us a call. We look forward to hearing from you!
Are Veneers Permanent?
Veneers are considered to be a permanent treatment. Although your first set of veneers will not last forever, they will eventually need to be replaced with new ones (or another type of restoration). This is because while preparing your teeth for veneers, your cosmetic dentist in Bloomfield will have to remove a small portion of enamel from your teeth. This can make the teeth extra-sensitive and may affect their appearance. The enamel will not ever grow back, so your teeth will always need something to protect them. Do not let the long-term nature of veneers scare you. Most patients who commit to them have no regrets about their decision!
Is There Anything I Cannot Eat with Veneers?
As part of your veneer treatment process, you will have to wear temporary veneers for a time. Temporary veneers are more fragile than their permanent counterparts, so you will have to take some precautions with them. For example, you should not use them to bite down on hard foods like ice and raw vegetables. You should also stay away from sticky foods that might tug the veneers off your teeth. Additionally, temporary veneers may stain, so you should limit your intake of dark foods and beverages. When you receive your permanent veneers, you should be able to eat virtually anything in moderation.
Can Veneers Be Used for Bite Corrections?
Veneers do not change the position of teeth, so they cannot actually correct bite problems. If you have serious dental misalignment, you should undergo orthodontic treatment before getting veneers. However, if your misalignment is minor, veneers may be able to disguise it. For example, veneers can hide a small gap between the teeth. They can also make teeth look longer, thereby hiding an open bite.
How Many Veneers Will I Need?
The number of veneers that you will need will depend on your goals for treatment. If you just want to correct one or two particularly unsightly teeth, veneers can usually be used for that. Most patients, though, opt for a full set of veneers to cover all or most of the teeth that are visible when they smile. For such individuals, they might receive 6 – 8 veneers or more. While many people choose to get veneers only on their top teeth, some choose to get them on the bottom teeth as well. During your consultation, we will be able to tell you how many veneers may be necessary to achieve your smile goals.