Restorative Dentistry – Bloomfield, CT
Get Your Oral Health Back on Track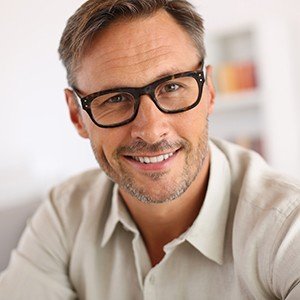 Even the best defenses sometimes fail. When tooth decay, gum disease, dental trauma, or any other oral health care issues break through the preventive dentistry defenses, our restorative dentistry services can help your smile recover. At Family Dental Practice of Bloomfield, we believe in restoring every smile to its natural look and feel. Our dedicated dental care team work to give you a variety of treatment options with state-of-the-art technology in order to enhance our ability to improve your oral health. Some of our options for restorative dentistry in Bloomfield, CT are listed below.
Why Choose Family Dental Practice of Bloomfield for Restorative Dentistry?
Advanced Treatment Options
Gentle, Empathetic, and Efficient Care
Natural-Looking Results
Dental Crowns & Bridges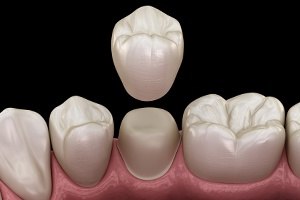 A dental crown is a custom-designed restoration that we place over the entire top portion of a tooth (everything above the gumline). Its purpose is to renew the tooth's strength, function, and/or appearance. A dental bridge is meant to replace one or more teeth. It usually includes two crowns, which get placed over the teeth next to an empty space. The crowns support an artificial tooth between them. Crowns and bridges can be made out of various materials, but we generally prefer to use dental porcelain, which is extraordinarily lifelike.
Tooth-Colored Fillings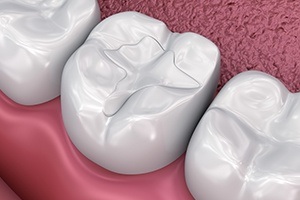 Dentists formerly relied on a material known as silver amalgam to fill cavities. While the amalgam served its purpose well enough, many patients complained about its dark color. For this and other reasons, we now primarily use tooth-colored fillings. These natural-looking restorations are made out of a biocompatible composite resin that comes in a variety of shades. They blend in seamlessly with the dentition around them and provide reliable protection against further dental decay.
E4D One Visit Dental Crowns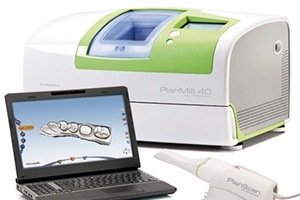 At Family Dental Practice of Bloomfield, we understand that your life is busy with work and taking care of your family while still trying to take care of yourself. The E4D machine enables us to offer you a custom-designed, high-quality dental restoration in a single appointment. This modern technology eliminates unpleasant impressions, multiple injections of local anesthesia, wearing temporary crowns for weeks, and multiple visits.
The high-speed laser takes multiple 3-D images of your tooth. Then, while you wait, our team designs and mills your custom crown right here in our dental office. If you choose to leave with your new crown the same day, please bring a book or enjoy our dental office wi-fi for business or pleasure. You will be in the dental office approximately 1 1/2 hours. Most patients, however, prefer to schedule a one hour appointment in the morning and return in the afternoon to have their new custom made crown cemented at a shorter appointment. Visit the following link for more information.
Learn More About Same-Day Dental Crowns
Dentures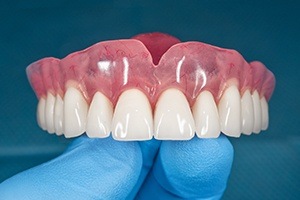 If you have lost a significant number of teeth, we may recommend that you receive dentures to replace your missing dentition. Dentures have helped generations of patients to enjoy renewed chewing ability and enhanced facial aesthetics. We are proud to offer traditional full dentures, partial dentures, and implant-supported dentures. The type that is right for you will depend on your unique circumstances. We design these prosthetics with function, appearance, and comfort as our top priorities.