Dental Implants – Bloomfield, CT
The Gold Standard in
Tooth Replacement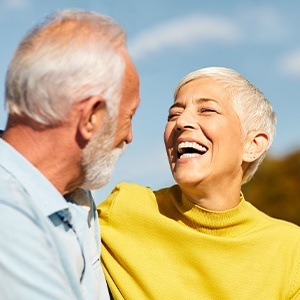 If you are missing one or more teeth, you have plenty of options to choose from to replace them nowadays. However, at Family Dental Practice of Bloomfield, we agree with the majority of dentists and recommend dental implants as the best tooth loss solution. They offer permanent, natural-feeling tooth replacement that far surpasses the appearance and function of traditional options like dentures and dental bridges. To learn more about dental implants in Bloomfield, CT, keep reading below or give us a call today to schedule your next appointment!
Why Choose Family Dental Practice of Bloomfield for Dental Implants?
Start-to-Finish Implant Care
Natural-Looking Restorations
Address Any Level of Tooth Loss
What are Dental Implants?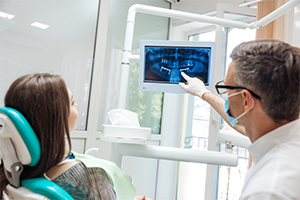 Traditional means of tooth replacement include dentures and dental bridges. While these options can replace missing teeth relatively quickly, they only restore the visible portion of teeth and leave the roots missing. Additionally, they put stress on your gums and remaining teeth to stay in place, which can cause a variety of oral health problems. Dental implants are able to bypass all these downfalls and give you optimal results by replacing the entire tooth from crown to root.
The dental implant itself is a small titanium post that is inserted into the jawbone to replace the roots of a missing tooth. This provides a strong, long-lasting foundation for the final restoration on top. Depending on how many teeth you are replacing, this restoration could be a custom-made crown, bridge, or denture. In the end, rebuilding missing teeth from the roots up gives you a smile that looks, feels, and functions just like natural.
The 4 Step Dental Implant Process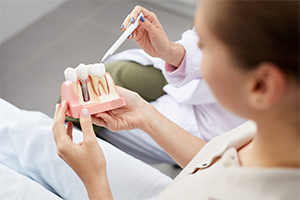 The process for replacing missing teeth with dental implants takes place over the course of several months. That might seem like a long time, but the end results are well worth it! Our team has all the expertise necessary to care for you during every step of this complex process. When you visit us, we will let you know some details of what you can expect during your treatment journey. How dental implants work in Bloomfield can vary from case to case, but in general, patients must go through four main steps: consultation, implant placement surgery, osseointegration, and restoration.
Initial Dental Implant Consultation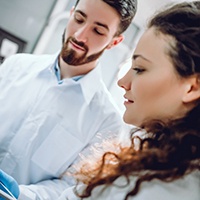 The treatment process begins with a consultation, wherein we determine whether you are a good candidate for dental implants in Bloomfield. We do so by learning about your medical history, thoroughly examining your mouth, and getting a look beneath your gumline with our advanced imaging equipment. Some patients require preliminary procedures, such as extractions, gum disease therapy, or a bone graft, before they qualify for dental implants. Once your mouth is healthy enough, we will plan the rest of your treatment. Feel free to ask questions during your consultation — we want you to feel well-informed before you commit to anything.
Dental Implant Surgery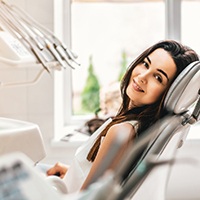 Some dentists must refer patients to an outside specialist for this part of their treatment. At Family Dental Practice of Bloomfield, however, we are able to perform the implant placement surgery right here in our dental office. Many patients would agree that staying with the same team throughout your procedure provides convenience and peace of mind.
During the surgery, we numb your mouth and may sedate you. Then, we create incisions in the gums and carefully insert the implants into the jawbone at precise, pre-planned positions. After the incisions are closed, you go home to begin your recovery.
Dental Implant Osseointegration & Abutment Placement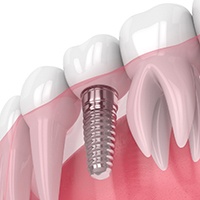 Following your surgery, osseointegration begins. Osseointegration is the biological process through which dental implants bond with the bone around them, thus enabling them to serve as sturdy replacement tooth roots. It typically takes at least a few months.
After adequate osseointegration has occurred, your implant dentist in Bloomfield exposes the tops of your implants and places healing caps on them. Later, after your gums have recovered, you may receive abutments, which are small connector pieces that serve to keep crowns, bridges, and dentures in place. (In some cases, it is possible to place abutments during the initial implant surgery.)
Delivery of Dental Implant Restorations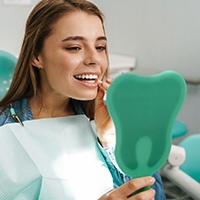 The last step in the dental implant process is restoration, during which we design and place your beautiful new crown, bridge, or denture. We custom design restorations to ensure that their size, shape, and color work well with your oral structures and are aesthetically pleasing. Once your restorations are in place, we check to make sure that your bite is comfortable, and we provide you with advice on how to adjust to your new smile. Then, you can go on your way and begin to fully experience the many benefits that dental implants have to offer!
Benefits of Dental Implants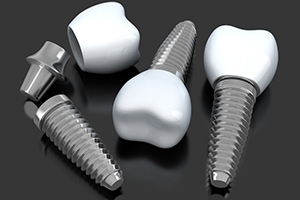 Dentists in the U.S. place more than 5 million dental implants each year. Why is this treatment so popular? It boils down to all of the remarkable benefits of dental implants in Bloomfield. They offer advantages that alternative treatments simply cannot measure up to. In fact, they can drastically improve your everyday life, protect your health, and provide you with decades of reliable function. Continue reading below to discover some of the specific ways in which they may be able to benefit you.
Day-to-Day Benefits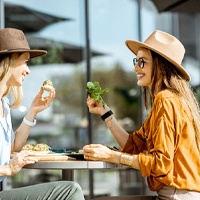 Dental implants in Bloomfield offer some significant day-to-day benefits, including:
The ability to eat virtually anything. Since dental implants are anchored in the jawbone, they are extremely sturdy. Whether you are biting into a firm apple or enjoying a juicy steak, you can expect your dental implants to remain strong and stable.
Easy maintenance. The details of proper implant care will vary depending on the specific nature of your restoration. However, many aspects of caring for dental implants are just like what you would do to care for natural teeth.
Natural appearance. Dental implant restorations are shaped and shade-matched to complement a patient's facial structure and the color of the remaining natural teeth. No one will be able to tell that you were ever missing any teeth!
Enjoy the smile you deserve. The way your smile looks can have a direct effect on your confidence. A full set of attractive teeth may make you look younger, more approachable, and more successful.
Health Benefits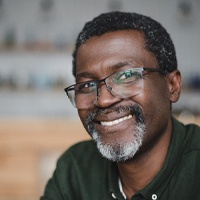 Some health benefits of dental implants include:
Protection for the remaining natural teeth. The loss of even a single tooth can cause the surrounding teeth to drift out of place, leading to painful dental misalignment. A bridge can prevent dental drift, but placing one requires that a few of the remaining natural teeth be significantly modified. A dental implant prevents dental drift and allows the nearby teeth to remain intact.
Maintain your facial shape. Some bone deterioration in the jaw naturally occurs after tooth loss. Over the course of months or years, the bone can shrink to the point where it affects the face's shape. Because dental implants stimulate blood flow in the jawbone and prevent deterioration, they can help you maintain your natural, youthful facial shape.
Eat a nutritious diet. Since dental implants make it easy to eat virtually all foods, they can enable you to enjoy the disease-preventing benefits of a diet that is rich in fruits and vegetables.
Long-Term Benefits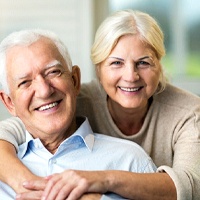 Long-term benefits of dental implants include:
Long-lasting results. Dental implants can last a lifetime if they receive proper care. The restorations on top of the implants also have a long life expectancy.
Save money. Although dental implants cost more upfront than traditional tooth replacement treatments, their remarkable longevity may actually present a better long-term value.
Save time. Maintaining dental implants is not time-consuming. Instead of having to make periodic appointments for denture adjustments or repairs, most of your visits to your implant dentist in Bloomfield should consist of routine preventive care.
Who Dental Implants Can Help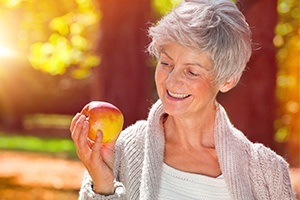 Dental implants are a versatile treatment. They might be able to restore your full dental function whether you are missing one tooth, several teeth, or all of your teeth.
Missing One Tooth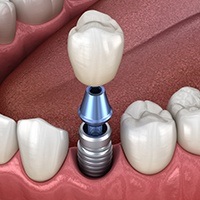 If you are missing just one tooth, you will receive a single dental implant to replace the root of the missing tooth. Later, after the implant has bonded with the tissue around it, our team will design a custom crown to go on top of it and replace the visible portion of the missing tooth.
Missing Several Teeth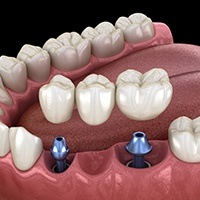 An implant-supported bridge may work for you if you are missing several teeth in a row. This type of restoration is similar to a traditional dental bridge. However, rather than relying on your natural teeth for support, it gains all of its strength from strategically placed dental implants.
Missing All Teeth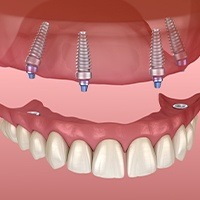 If you are missing all of your teeth throughout an arch, an implant denture may be the ideal solution for you. Your restoration may be permanently fixed to your implants, or it may be removable in nature and simply "snap" onto and off of your implants.
Understanding the Cost of Dental Implants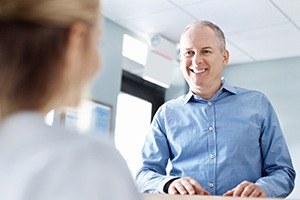 Dental implant restoration is a multi-phase process, and each step of treatment will be billed individually. Because we charge for each phase of treatment individually, you will have time between procedures to plan your budget. To further help patients manage the cost of their dental care, we work with third-party financiers who offer low- and no-interest payment plans for qualifying applicants. We understand that the cost of dental implants is high, especially for patients who are missing multiple teeth. However, they are a worthwhile investment because they offer long lasting, highly functional results.
Dental Implant Failure & Salvage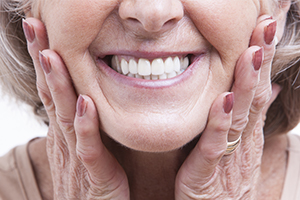 Dental implant failure is very rare, but it can occur for a number of reasons. When complications arise with your replacement teeth, Family Dental Practice of Bloomfield is here to help you restore them, even if we are not the practice that you originally partnered with for your implant treatment. Our dentists are true experts; they have years of training and experience in all aspects of dental implant treatment. We will do everything in our power to restore your prosthetics and get your oral health back on track.
Learn More About Implant Failure and Salvage
Dental Implant Post-Op Instructions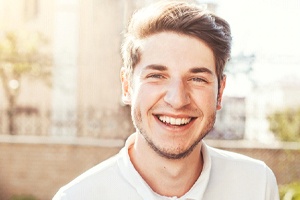 After your dental implant placement surgery, it will take some time for your mouth to get back to feeling normal. But do not worry. As long as you carefully follow your dental implant post-op instructions in Bloomfield, you will probably enjoy a smooth and relatively comfortable recovery. Below, you will find practical guidance for the days and weeks after your procedure.
What to Do Directly After Dental Implant Surgery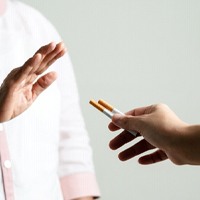 Blood clots may form at your surgical sites. They are an important part of your body's healing process, so you must take care not to dislodge them. You can protect them by:
Not spitting. Instead, use tissues or simply swallow excess saliva.
Avoiding drinking straws and smoking. The suction action could disturb your blood clots.
Not touching your surgical sites. You should keep both your fingers and your tongue away from your incisions.
Common Side Effects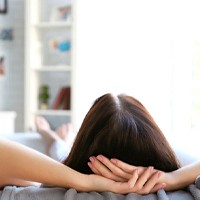 After your surgery, you might experience:
Intermittent bleeding. Gauze and light pressure can help to manage this, but it may continue for several days.
This can continue throughout the first 72 hours and can go on for a week or longer. Cold compresses may help.
Your mouth may be sore, and you may feel extra tired. Pain medication and rest are both recommended.
If you experience any severe or unusual side effects, call your implant dentist in Bloomfield right away.
Diet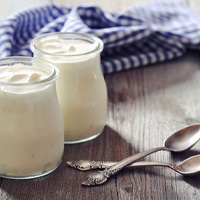 At first, you should stick to a no-chew diet. This can include things like mashed potatoes, yogurt, applesauce, brothy soups, and even ice cream. Later, you may be able to enjoy fork-tender foods, such as scrambled eggs, pasta, meatloaf, and soft breads. It would be wise to avoid hard and crunchy foods until after you are completely healed. When you chew, try not to place any pressure directly on your implant sites.
Health & Oral Hygiene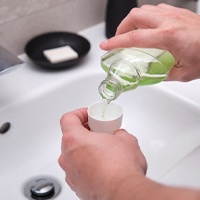 You should continue to care for your oral hygiene, but be extremely careful near your surgical sites. You dentist might recommend that you regularly rinse with a mouthwash to fight bacterial buildup. However, keep in mind that it is best to avoid any mouthwashes with a high alcohol content, such as Scope or basic varieties of Listerine.
What to Do After Your New Teeth Are Attached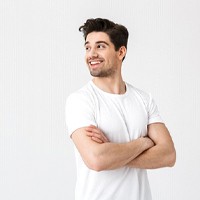 Your gums might be a little sore after we attach your restorations to your dental implants in Bloomfield. You might also produce some extra saliva. It is normal for patients to take a little time to learn to speak and chew with restorations. However, you should not experience any bleeding or swelling. You will be ready to use your new teeth right away!
Maintaining & Caring for Your Dental Implants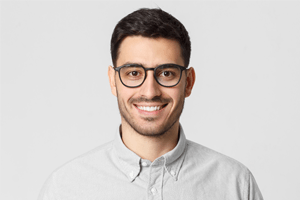 Dental implants have the potential to last a lifetime! However, they can only reach that potential if you do your best to practice proper dental implant care in Bloomfield. Below, you will learn about some practical things you can do to reduce the risk of infection and physical trauma to your restored smile.
Make Oral Hygiene a Priority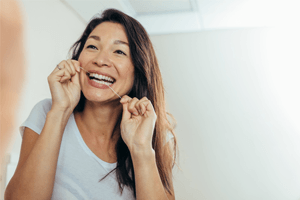 One of the best ways to prevent infections around your dental implants is via thorough oral hygiene. Your routine should include:
Twice-daily brushing. Be sure to clean the area along your gumline and the backs of your teeth.
Once-daily flossing. Water flossers and floss picks are moderately effective, but old-fashioned string floss remains the best option.
Following instructions that are specific to your restoration. For example, if you have a removable implant denture, you should regularly take it out of your mouth for a thorough cleaning.
Eat a Healthy Diet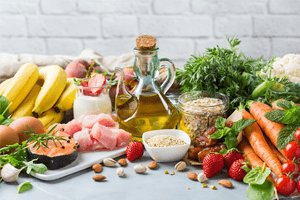 Dental implants are durable enough to stand up to virtually any food, so feel free to eat whatever you like. However, keep in mind that just like natural teeth, some foods are better for dental implants in Bloomfield than others. You should limit your intake of sugary, sticky, and hard foods. Instead, try to enjoy a balanced diet that is rich in nutrients that support oral health, such as vitamin C, calcium, and phosphorous.
Break Bad Habits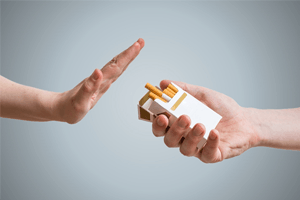 Some habits that could adversely affect dental implants include:
Smoking. Using any type of tobacco greatly increases the risk of dental implant failure. Every effort you make to quit will be well worth it.
Chewing on hard objects. Chewing on pen caps or biting on ice could damage your implant restorations.
Using your teeth as a tool. You should never use your new teeth to open packages or trim your fingernails.
Protect Your Dental Implants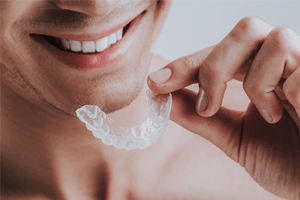 If you play sports, especially contact sports, it would be wise to use a mouthguard. Over the counter mouthguards are somewhat effective, but custom guards from a dentist are more comfortable and provide a higher level of protection.
If you often wake up with a sore jaw, it is possible that you grind your teeth at night. You might need a special type of mouthguard to prevent your top and bottom teeth from touching one another and causing mutual harm.
Schedule Regular Dental Checkups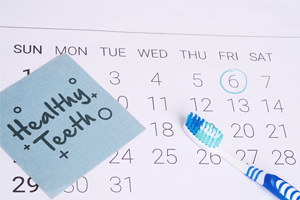 It should be your goal to visit your implant dentist in Bloomfield at least twice a year for a cleaning and checkup. At these appointments, we will examine your implants and the surrounding tissue. We might also remove your restorations so we can clean around your abutments. If our exam reveals any developing problems, we may be able to address such issues before they progress and pose a serious threat to your implants' long-term viability.
Dental Implant FAQs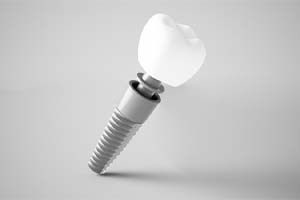 Dental implants in Bloomfield have the potential to change your life for the better. Still, getting them requires a significant investment of time and money. Before you commit to anything, you may want to learn more about the journey ahead of you. Below, you will find answers to some frequently asked questions about this treatment. If you would like further explanation on anything you discover, feel free to reach out to us directly.
How Long Do Dental Implants Last?
With proper care, dental implants are likely to last a lifetime. At the very least, they should last several times longer than any form of traditional tooth replacement, such as a regular denture or bridge. Of course, whether or not implants live up to their potential depends on your daily habits and lifestyle choices. If you are committed to diligent oral hygiene, and you visit your dentist regularly for preventive care, it is probable that your prosthetic teeth and tooth roots will stand the test of time.
Does Getting Dental Implants Hurt?
Your mouth will be numbed during your dental implant surgery, and you may be sedated. Therefore, you are unlikely to feel much of anything throughout your procedure. After the local anesthesia wears off, however, you can expect some general discomfort. That typically dissipates in the days or weeks following the surgery, and it can be managed with pain relievers and other measures. Most people find that the recovery process is easier than they anticipated.
If you experience any severe or unusual pain after your surgery, contact your implant dentist in Bloomfield right away. You might have an infection or another type of problem that requires prompt treatment.
Are Dental Implants Safe?
For the majority of patients, dental implants are very safe and successful. Most dental implants are constructed out of a medical-grade titanium alloy, which is generally well-tolerated by the human body. Allergic reactions to it are almost nonexistent. We carefully perform the placement surgery to minimize the risk of post-procedural complications. We also schedule our patients for adequate follow-up care so we can monitor them as they recover. If you have any medical conditions that may affect your ability to undergo surgery or heal from it, we will thoroughly discuss your situation and the risks involved before we move forward.
Can I Get Dental Implants If I Smoke?
Smoking is just one of many factors that we consider when we are determining whether someone is a candidate for dental implants. Although it will not automatically preclude you from getting them, it is important to remember that your habit increases the risks involved with the surgery and the recovery period after it. Smoking heightens the chances that you will suffer from an infection, and it slows down your body's healing time. We strongly encourage smokers to quit prior to their implant surgery. If that is not possible, you should at least abstain for the weeks and months before and after your procedure. A nicotine patch or a similar product may help you to cope with withdrawal symptoms.