Traditional Braces – Bloomfield, CT
Reliable and Cost-Effective Orthodontic Treatment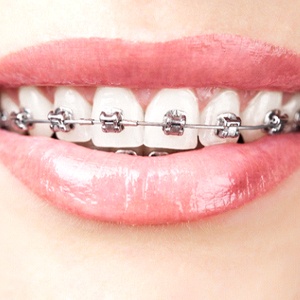 A number of innovative and effective orthodontic treatments have hit the market in recent years. However, traditional braces in Bloomfield remain one of the most reliable ways to straighten teeth. If you are thinking about getting them, our team would be happy to consult with you and help you understand all of your options for correcting your dental misalignment. You may soon be on your way to a well-aligned, healthier smile. Contact us today to schedule an orthodontic appointment.
Why Choose Family Dental Practice of Bloomfield for Traditional Braces?
Orthodontic Specialist On-Staff
Friendly & Knowledgeable Team
Early and Evening Appointments Available
How Do Traditional Braces Work?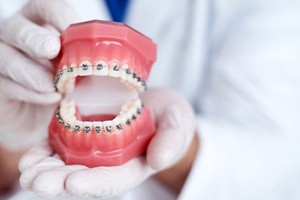 Traditional braces have two primary components. We bond brackets to the teeth, and an arch wire connects them. As the wire gets tightened at periodic appointments (usually every 6 – 8 weeks), the teeth gradually move into their proper positions. The average total treatment time with braces is 18 – 36 months. However, many patients begin to notice a positive difference in their teeth well before their treatment nears completion.
What Orthodontic Issues Can Braces Fix?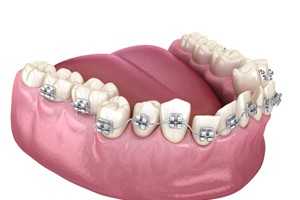 Your dentist in Bloomfield will be able to determine if braces are the best option for addressing your unique case of dental misalignment. They are capable of correcting virtually all orthodontic issues, including complex and extensive ones. Here are a few examples of problems that they are commonly used to fix:
Bite Misalignment
Overbite, underbite, crossbite, and open bite are all problems with how the top and bottom teeth fit together. They can contribute to dental decay, TMD, aesthetic issues, and more. Braces can shift the teeth to minimize bite issues, and additional accessories (such as elastics) can help train the lower jaw to rest in the correct position.
Crowded & Crooked Teeth
Crowded, overlapping teeth tend to trap food between them, increasing the risk of decay and gum disease. Speech abnormalities and aesthetic problems may also be present. Fortunately, braces (perhaps after extractions) can shift the teeth so each one has the space it needs to function at its best.
Gapped Teeth
While some see a gap between the teeth as "cute," many people regard it as unattractive. Plus, that extra space can leave the gums vulnerable to harm. Braces can gently reposition the teeth to close unwanted gaps and provide you with a healthier, more aesthetically pleasing smile.
Caring for Your Braces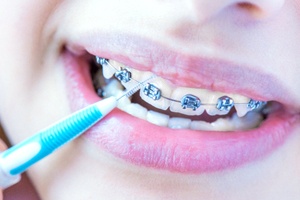 In order for your treatment to go as smoothly as possible, you will need to adhere to some basic guidelines for caring for your braces:
Keep up with oral hygiene. You may need to use specialized tools, such as a floss threader or water flosser, to clean around your brackets and wires. Our team will coach you on all the proper techniques.
Watch what you eat. Sticky, chewy, and hard foods have the potential to damage braces and the teeth beneath them. They should be avoided for the duration of your treatment.
Keep up with professional dental care. Missing orthodontic appointments can slow down your treatment. You should also continue to schedule routine cleanings and checkups.