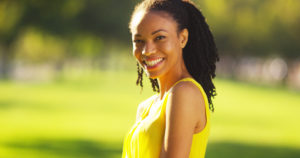 You've probably heard about Invisalign by now (unless you've been living under a rock, in which case, welcome to 2017!). If so, you know it's a way to straighten your teeth without the metal brackets and wires required with conventional braces. Invisalign is a wonderful alternative — and to sweeten the deal, they recently updated their protocols to make treatment even more convenient.
Now, you don't have to wear the aligners for as long, which means the overall treatment time could be shorter. They have also upped the quality of materials that are used — which were already top of the line. All that adds up to one excellent choice for orthodontics.
Today's Invisalign
Over 4 million people worldwide have had their teeth straightened with Invisalign, and the process is better than ever with these recent changes.
Today, Invisalign works like this.
Weekly aligner changes, versus changes every 2 weeks, results in treatment times  up to 50% faster.
Movement is up to 75% more predictable thanks to SmartTrack® and SmartForce® technology, which allow your dentist to better control tooth movement.
Aligners made with the SmartTrack materials fit better and are easier to take out and put back in, for enhanced comfort throughout the treatment.
Improvements in technology allow for the acceptance of more complex cases which previously were not treatable with Invisalign.
Compliance indicators that fade from blue to clear with use help teens keep track of when it's time to move on to the next aligner.
Invisalign vs. Traditional Braces
Compared to traditional braces, the advantages of Invisalign are numerous. It is a convenient, comfortable, and attractive alternative to wire braces.
Here's what you can expect from Invisalign.
Removable aligners that make eating and cleaning a breeze. There are no brackets or wires to maneuver the brush and floss around, and you do not have to modify your diet to accommodate the breakable hardware.
You can feel free to remove the aligners before special events, like presentations or meetings, to continue speaking with total confidence.
Invisalign is often more comfortable than traditional braces, which may rub blisters or sore spots in the soft oral tissues.
Fewer appointments with your dentist are required during the Invisalign treatment compared to with traditional braces.
Last but certainly not least, Invisalign is made of clear plastic that is practically invisible.
More people than ever are eligible candidates for Invisalign thanks to the new guidelines. To learn more about whether or not clear aligners are right for you, contact your Invisalign dentist for a consultation.
About the Authors
The Family Dental Practice of Bloomfield is pleased to bring high quality general and cosmetic dentistry to local friends and families. To learn more about our services, including whether or not Invisalign is right for you, please feel free to contact the practice at 860-242-5594.