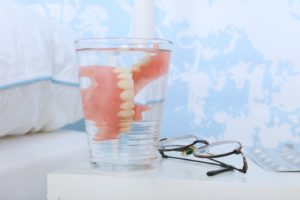 Dentures provide reliable, attractive, and functional tooth replacement. However, if you want your prosthetic to stand the test of time, you must take proper care of it. For example, you should be careful not to drop it, and you have to use the right technique when you are eating hard or crunchy foods. It is also vital that you pay attention to denture hygiene. In this blog post, we discuss an important question that relates to that topic: Should dentures be soaked overnight?
Do Not Wear Your Denture 24/7
While you may love the confidence and chewing ability that your denture grants you, you should not wear it 24/7. It is essential to remove it from your mouth from time to time so the gums and bones that support it can have a chance to rest. Removing it is also necessary in order to properly clean it. Without regular, thorough cleanings, harmful bacteria may accumulate on your denture and lead to an infection.
The standard recommendation is to remove your dentures at night and brush them thoroughly but gently with a soft-bristled toothbrush and a non-abrasive toothpaste or denture cleanser. In a pinch, you can use a mild, clear household soap. If you use adhesive to keep your denture in place, you should remove any remaining bits of it from the grooves on your denture's underside. Then, you can replace your denture in your mouth if you wish. However, the better option is to soak it overnight.
Why and How to Soak Your Dentures
Most types of dentures will lose their shape if they are not kept moist. Therefore, when you take your dentures out of your mouth at night, you should store them in a liquid-filled container. What kind of liquid? Many individuals use plain tap water or distilled water to soak their dentures. However, regularly soaking them in a cleansing solution can help them to remain as clean and functional as possible.
Different denture manufacturers have different guidelines on which soaking solutions are best. Your dentist may even suggest a product that will help your denture to stay clean, shapely, and functional for as long as possible. Do not be shy about asking for recommendations. When you use a denture cleansing solution, be sure to thoroughly rinse your denture in the morning. You do not want the chemicals from the cleanser in your mouth because they may irritate some of your soft tissues.
Your dentures take good care of you. It is only logical that you should take good care of them by keeping them clean and moist every day and night.
Meet Our Practice
Family Dental Practice of Bloomfield is proud to have six doctors on-staff with many decades of combined experience. The restorative experts on our team are more than capable of designing beautiful, well-fitting dentures. They will also be happy to answer any questions you might have about your dentures. To learn more about us and how we may be able to serve you, contact our team at 860-242-5594.