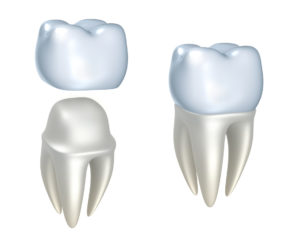 You've had a problem tooth for a while now – no matter what you do, it's just not quite the same quality as the rest of your gleaming pearly whites. So, when it breaks while enjoying some tortilla chips at a backyard barbeque, you're not that surprised, although you do wonder exactly what you can do to address the problem, as well as how long it will take. Much to your surprise, your dentist offers CEREC crowns in Bloomfield and you're amazed to know that you'll have your permanent restoration in just one visit. Learn more about this revolutionary approach from the team at Family Dental Practice of Bloomfield.
What Are CEREC Crowns?
Before we dive into the benefits of CEREC in Bloomfield, let's define what this type of restorative treatment this is. A dental crown is a tooth-shaped cap that fits over an existing tooth. Crowns can be used in many situations, including:
Protecting a weak tooth from breaking
Holding a broken tooth together
Repairing a tooth that's worn down significantly
Supporting a tooth with a large filling
Correcting discolored or misshapen teeth
Making cosmetic modifications
Covering a tooth that has undergone root canal therapy
The difference with CEREC crowns is that you don't have to go through a two-step process and wait weeks for your permanent restoration to be crafted by a lab. Instead, we use advanced software and a digital model to customize the design that will work perfectly for you. Then, our state-of-the-art in-office milling machine creates your crown – all at the very same appointment. We'll bond the crown to your compromised tooth after it's been prepared and then send you on your merry, smiling way!
What Makes CEREC Crowns Superior To Traditional Crowns?
There are a few key benefits that make CEREC the optimal solution, including:
Time-Saving – With CEREC, you'll have a same day upgrade to your smile. A temporary crown and second visit aren't necessary.
Appearance – Since your crown will be milled from a single block of durable porcelain, you'll have a better looking result than if you opted for a traditional crown, which are generally made of porcelain that's fused to a metal base that can look noticeably artificial, especially along the gum line.
Health – CEREC provides a healthy, natural-looking and durable tooth structure and they positively impact the well-being of your gums.
At this point, you're probably wondering if CEREC actually works, and we're happy to assure that this method has been thoroughly researched and proven effective. But don't take it from us – see for yourself how CEREC works by watching this quick video from The Doctors TV show.
Is CEREC Covered By Insurance?
Many insurance providers offer coverage for CEREC crowns just like they would for traditional crowns, but keep in mind that most companies don't cover any type of crown with 100% coverage. We're always happy to submit claims for you and to verify your benefits – give us a call if you have questions. And, if you're worried about out-of-pocket costs, don't be! We partner with Wells Fargo, CitiHealth and CareCredit for financing options that provide low, monthly payments.
Now that you know the important details about CEREC and why this innovative solution is the right choice, schedule your appointment to restore your smile today!